Releasing Sharks Back into the Ocean
By Niphon Phongsuwan
On the 1st of December 2013, Phuket Marine Biological Center (PMBC) with cooperation by other organizations including Go-Eco-Phuket, 3rd Naval Area Command Royal Thai Fleet, V.S.T. Autosales (2002) Co. Ltd., Coastal Fisheries Research and Development Center, Marine Science Institute of Burapha University, Butterfly and Insect Garden – Phuket, MCOT Radio network – Phuket, Phuket Bulletin Magazine, Honeymoon Private Island (Phuket) Co. Ltd. and Sri Panwa Phuket took part in an activity titled "releasing sharks back into the ocean" to mark the birthday of his Majesty the King.
On this occasion, 119 Indonesian bamboo sharks were released. These sharks were bred by PMBC's hatchery. 199 Clown shrimps (harlequin shrimp) bred by Marine Science Institute, Burapha University were also released. on this event. Apart from the sharks and the clown shrimp, other species were also released on this day, including 30,000 young sea bass, and 500,000 young tiger prawn. The latter two species were released around the shorelines of the Phuket Aquarium. The Sharks and the clown shrimps were however released around Koh Dokmai and Koh Maithon.
Koh Dokmai was considered the perfect location for releasing the sharks and the clown shrimp. Koh Dokmai is a fairly small island with no beaches. The island is made up of cliffs and reef walls down to the depth of 20 meters. The reef is rich in biodiversity, more than 50 species of hard corals. Soft corals, sea fans, sponges, rock oysters and schools of fishes are very unique here. Koh Dokmai is considered to be one of the best dive sites close to Phuket Island
Before the first dive at Koh Dokmai, over 40 divers were divided in groups. Most of them were foreign divers that operate dive shops or work in the dive industry in the region, some were local authorities such as staff of national park, polices that appreciate marine conservation activities, etc.. Briefing for understanding the right practice to release sharks and shrimp was made. The divers were explained to seek crevices amidst the corals, these crevices must not already be inhabited with other fish species (the fish will try to consume these shrimps). The divers were also had to make sure they did not break coral or stir up sediments as this would attract wrasse or other species that would try to consume these shrimps.
After the release the divers observed that shrimp were content by their new habitat. As for the sharks, they were released close to the reef bottom between depths of 15-20 meters. The anxious sharks once released, swam rapidly toward the corals and rested as if they were tired but also excited about their new surroundings, moments later they swam away exploring their new home.
The second dive was made at Koh Maithon which is not far from Koh Dokmai. The reef is formed by most of the large boulder corals. This is also the suitable habitat for the shark. Some clown shrimps were also released here.
Every one who participated in this event has a good memory to see the sharks and the clown shrimp live in their real world. Everyone shared the joys and excitement with this event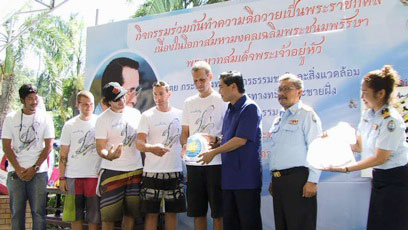 Phuket provincial governor handovers sharks and clown-shrimps to divers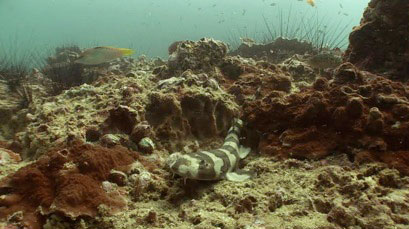 Young Indonesian Bamboo Shark released at Koh Dokmai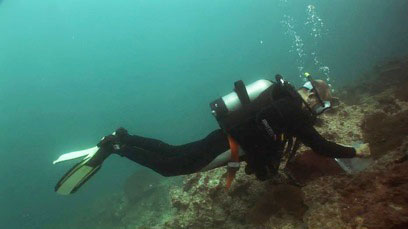 The clown-shrimp was released at Koh Dokmai